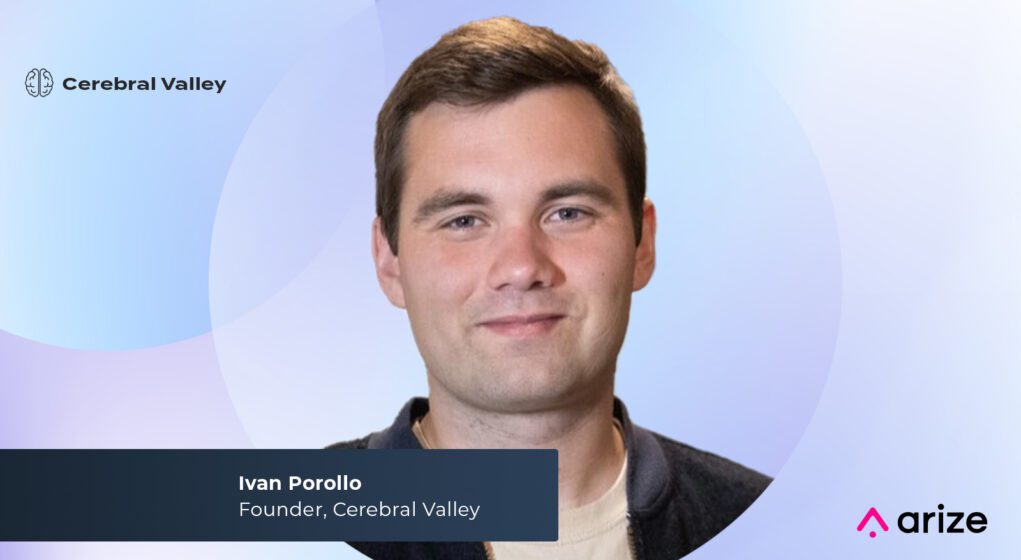 Exploring the Future of AI Community with Cerebral Valley Founder Ivan Porollo
Ivan Porollo is a co-founder of Cerebral Valley, a new community at the center of the AI renaissance currently underway in the San Francisco Bay Area. A software engineer-turned-founder, Ivan is hyper-focused on building out Cerebral Valley under a banner of builders and founders sharing knowledge ultimately propelling new breakthroughs in AI and new startups. In this interview, Ivan discusses the current moment in AI, the state of LLMOps, the mission of Cerebral Valley, and some of the exciting things community members are working on and building.
Explore upcoming events and other ways to engage with Cerebral Valley.
Can you briefly introduce yourself and outline your background?
Ivan: Sure, I'm Ivan, a software engineer turned founder. After working for several startups and attempting to start a few of my own in college, I took on a full-time role as a Software Engineer at WeedMaps. After a year, I made the Y Combinator 2020 batch and moved to the Bay Area, ultimately founding a data observability company that I stepped away from in June. Now, I'm focused on building Cerebral Valley.
Why did you want to start Cerebral Valley?
Ivan: When I moved to San Francisco in May of 2020, it was at the height of the pandemic. I was always told that there was a massive tech scene that is super intense in San Francisco and you have to be there to be at the cutting edge of technology but when I moved here none of that was present and I was confused. Obviously, at the time it was for a good reason – a pandemic – but it left me with a yearning desire to see what exactly it means to live in Silicon Valley and San Francisco, the Mecca of tech, when things got back to normal. After living here for two years, I did a little bit of digital nomading and then moved back in January of 2023. That's when I realized that people were starting to get back into the office, and they were excited about the technology of AI because ChatGPT dropped in November of 2022. When I moved back, I saw potential for a community to be built around AI in general. As one of the co-founders of the artificial intelligence club at Ohio State University, it was a model that I've run before, and I saw a similar kind of opportunity but on a much larger scale. So, I ran with it, and it's been an amazing experience ever since.
Cerebral Valley is really at the center of the renaissance happening around AI in the Bay Area right now – how would you describe this moment and why is it unique?
Ivan: It's a technological revolution that's happening right before our eyes. It's one of the biggest ones we'll ever get to experience during our lifetime. In my opinion, I think a similar revolution took place during the initial web 1.0 era and then during the first smartphone wave as well. A lot of the smartest people are moving back to San Francisco because this feels like it's truly the hub of AI and the latest technologies. Cutting-edge startups are being built out here, and this is ultimately creating a positive flywheel of the newest and coolest tech being out here.
What are some of the ways people can engage with Cerebral Valley?
Ivan: Developers can join us for our hackathons, technical event series, and women in AI events. We also have co-working opportunities, newsletters, and a lively Slack community.
What's your goal with Cerebral Valley, and what's the community's mission?
Ivan: Our goal is to bring builders and founders together to share knowledge, experiences, and solutions, and continue the development of AI and the creation of startups. We are actively moving Cerebral Valley into a nonprofit organizational structure. We don't expect it to be a revenue-generating community, but rather one dedicated to bringing people together and honing in on the energy of the technology revolution that's happening.
Who do you generally see going to the events?
Ivan: It's all over the board. Everyone's interested in figuring out how they can either build with the new technology or use it in their existing workflows or just learn about it in general. We have different types of folks coming into our community events. It's a mix of builders, founders, people building companies, or building side projects in AI. It's a community by developers for developers and builders, but there are also other folks in the ecosystem who are interested in how to revolutionize and learn more about this new wave of AI. Cerebral Valley provides technical workshops, happy hours, speaker series where people present what they're working on and teach others how to use their technology, and a lot more.
What are some of your favorite applications that you've seen built in early hackathons?
The community is intense, with so many cool people coming through from different backgrounds. Hackathons are a font of ideas. The observability plugin your team built was a great idea.
In terms of what's trending, right now a lot of folks are playing around with agents and autonomous agents like BabyAGI. There are a few cool companies too, like FakeYou, which came to one of our co-working sessions. They provide the infrastructure behind the fake voices you hear on TikTok. There are just many different companies and builders interested in a variety of things because AI can be applied to everything. It's a diverse set of ideas coming in.
Our ChatGPT Plugins Hackathon is a great example, with interesting projects from Edujason to InfraGPT. Before that, we had the AI for Good Hackathon with Internet Activism and had amazing winners like GPTCHA (a GPT-4 powered adversarial agent that intercepts suspicious calls and determines if the call is legit) and ReadPanda, an AI-powered language learning app for K-5 students!
What are some of the lessons from your prior roles as an entrepreneur and engineer that inform your approach to building a technical community? 
My background has always been building developer tool products. Coming into Cerebral Valley, it was a natural fit. The main learning is to have a good user experience, especially for developers who are nitpicky and want to quickly understand everything. Another learning is that hackathons are a big way to create interest and drive among people interested in hacking and doing quick projects that can turn into real companies. Hackathons are a refreshing model that works well for engineers in the professional world.