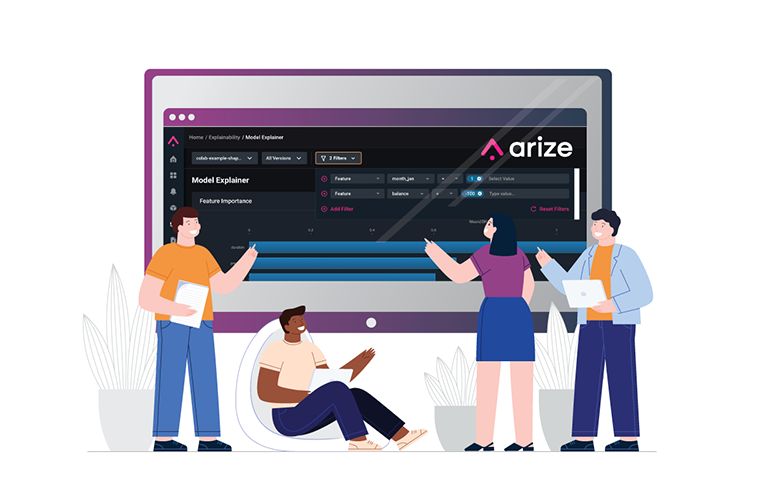 Arize AI Listed In 2021 Gartner Market Guide for AI Trust, Risk and Security Management (AI TRiSM)
As more and more teams embrace machine learning to streamline their businesses or turn previously impractical technologies into reality, there has been a rising interest in tools that can help bring a model from the research lab into customers' hands.
Google built TFX, Facebook built FBLearner, Uber built Michaelangelo, Airbnb built Bighead, and these systems have allowed teams to scale their MLOps and AI ambitions.
Outside of these large tech companies; however, building machine learning proof of concepts in the lab is drastically different from deploying models that work in the real world.
Two years ago, based on our founders' experience managing complex ML systems at large, data-driven enterprises and hundreds of conversations with ML practitioners, Arize set out to develop a Machine Learning Observability platform to help teams successfully take models from research to production with ease.
Today, Arize's automated model monitoring and analytics platform is counted on by top enterprises to quickly detect issues when they emerge, troubleshoot why they happened, and improve overall model performance.
We are excited to announce that Gartner has listed Arize as a Representative Explainability Vendor in the 2021 Market Guide for AI Trust, Risk and Security Management (AI TRiSM). Gartner views AI TriSM as comprising multiple software segments that ensure AI model governance, trustworthiness, fairness, reliability, efficacy, security and data protection.
According to Gartner, "AI Trust, Risk and Security Management typically requires organizations to implement a best-of-breed tool portfolio approach, as most AI platforms will not provide all required functionality."
The firm also notes that, "security and risk concerns are almost always an afterthought in any system development and deployment. When it comes to AI, this is an especially poor design choice since there are so many moving parts and so many of them are opaque to most users. There's no need to rely on a black box running critical functions for your enterprise. There are in fact many solutions that bring transparency and trust, keep the bad guys out, prevent benign mistakes, protect sensitive data, and keep AI models functioning as intended. These solutions just need to be used."
To us, this recognition highlights the growing need for and our leadership in delivering innovative solutions that act as the guardrail on deployed AI, providing transparency and introspection into historically black box systems to ensure more effective and responsible AI.
While this market is still emerging, the pain is real and we are working closely with our customers towards a future where every organization can easily deploy, observe and maintain ML models that drive critical business decisions and processes.
If you're a Gartner client, you can access the full report here.
Disclaimer: Gartner Market Guide for AI Trust, Risk and Security Management (AI TRiSM), Avivah Litan, Farhan Choudhary, Jeremy D'Hoinne, September 1, 2021. Gartner does not endorse any vendor, product or service depicted in its research publications, and does not advise technology users to select only those vendors with the highest ratings or other designation.