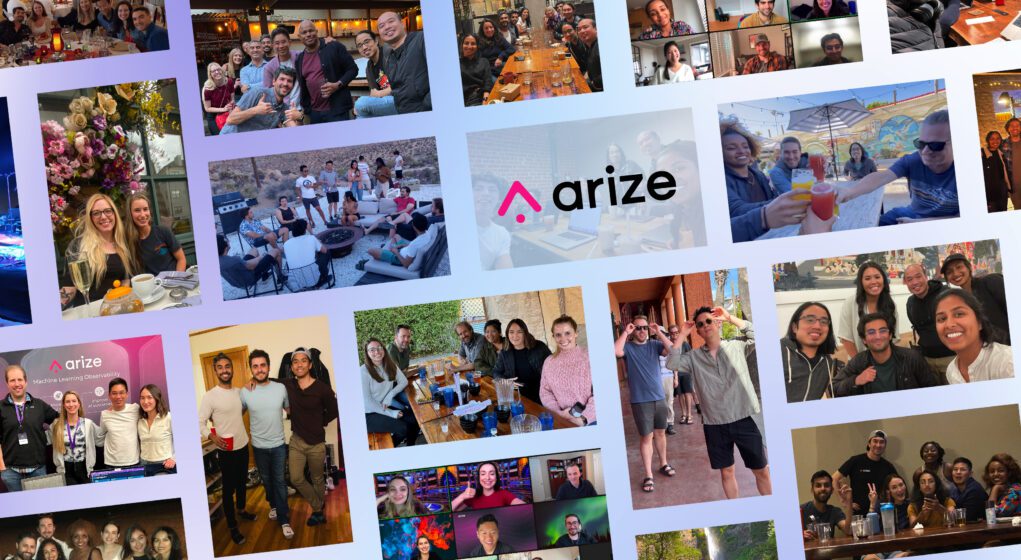 Arize AI's Next Era of Growth
Today, we announced a $38 million Series B led by TCV, with participation from existing investors Battery Ventures, Foundation Capital, and Swift Ventures. The investment is the industry's largest-ever in a machine learning observability platform.
Our Role In a Changing World
When Aparna and I started Arize, we were on a mission to make AI work and work for the people. As ML practitioners, we experienced firsthand the heartache of spending months building and training machine learning models, deploying them to production, and having no insight into how the models actually performed. Were the models helping or hurting our products? Or were the predictions unintentionally perpetuating bias or unfair outcomes for certain groups? We set out to answer these and other fundamental questions.
While our raison d'etre has not changed since the company's founding in 2020, the world has become a much different place. AI is now being deployed across industries, informing everything from holiday apparel orders for retailers to potentially life-saving interventions in cancer care. In all, spending on AI is forecast to eclipse $200 billion within three years. The pace of technical progress in areas like deep learning is also accelerating.
As models get more complex and prolific, detecting and troubleshooting problems gets harder. Unfortunately, most companies still lack visibility into how their ML models are performing in production and run the risk of models impacting earnings or acting in unfair ways. Nearly one in ten Fortune 500 companies even disclose AI risk on their annual financial and ESG reports.
A revolution in machine learning observability is needed for AI to flourish and achieve long term sustainability. That's why Arize pioneered this space two years ago and is now proud to count Uber, Chime, Ebay, New York Life, ShareChat, Spotify, and Stitch Fix as customers and design partners.
Arize's ML observability platform offers ML teams an easy way to streamline performance monitoring, drift detection, data quality checks, and model validation. A slew of recent innovations supplement these core capabilities. Most recently, we debuted embedding analysis and embedding drift monitoring – a much-needed breakthrough given computer vision and natural language processing models are notoriously difficult to troubleshoot and data labeling for retraining is costly. We also released bias tracing, a tool designed to help monitor and take action on model fairness metrics, earlier this year.
Most importantly, we democratized access to these tools, offering a free Arize plan that makes it easy for any ML engineer anywhere in the world to get up and running in minutes.
Welcoming New Partners
It is an incredible privilege to lead Arize along with my co-founder Aparna Dhinakaran. We are both incredibly proud and grateful to our early team, customers, partners, and investors.
In taking Arize to the next level, we could not ask for a better partner than TCV. The firm's track record working with growth-stage technology companies – including many household names and B2B giants – is well-known. Partner Morgan Gerlak brings a great strategic lens to our board of directors.
We are also excited to expand hiring and welcome new faces to our team. With roles now open across engineering, product, marketing and sales, we hope you will consider joining Arize. You will find an open and collaborative team that was recently recognized by Fast Company as among the "Best Workplaces for Innovators" and a diversity category standout.